I am a big fan of limited voices and letting the modules speak for themselves.
I love this patch - I agree, there are a lot of places it can be taken.
I did some further simplification to make the patch both smaller and even more CPU efficient
Eliminated the mixer, and used a pair of SUM modules to mix the poly left and right channels to mono left and right.
Substituted Grande MRG8 for the VCV Merge.
Eliminated one Chances by using the dual Bernoulli gate to control the probability of changing direction on each Squonk, and used a single Chances to control the probability of when voice 2 plays.
I then added a pair of switches to allow the choice of OR or XOR to drive each Squonk. I could have used a single switch, but opted for two because I wanted one to be OR and the other XOR.
I also added the Kitchen Sinks and the switches to be under 8Face control. I'm thinking it also makes sense to add the Bernoulli gates and delay settings, but didn't bother
Finally I added Shift Pedal to make it convenient to start/stop on stage with flute in hand.
Chaircrusher2022-06-22-2MOD.vcv (23.7 KB)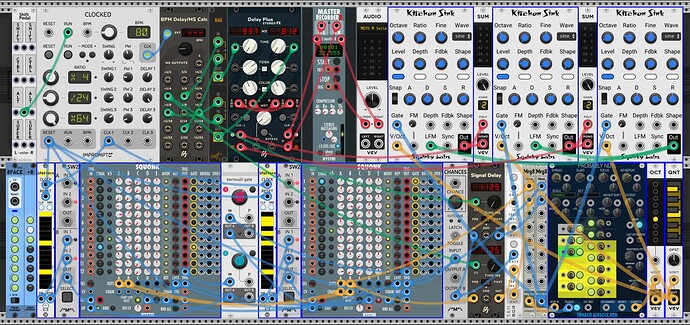 I took the patch to a jam session with a jazz guitarist, percussionist, and another synth player, and I added my flutes - they all loved jamming to it. I also took it to an outdoor open mic later in the day, and got a lot of great feedback. Lots of people boppin' while I played my flute to the patch.
I hope to get a live recording with my flute(s) from Monday's VOM.
I'm really glad you posted the patch. It showcases a bunch of techniques you have posted elsewhere, and it really helped crystalize the ideas in my mind. I definitely need to start using 1Pattern in my own patches - I love complex poly meters. And it is great to learn Squonk.