Hi,
I'm using PC Windows 10 (21H1) and Yamaha/Steinberg UR22C (USB 3.1 ASIO) audio interface. This interface is set as 44.1kHz (by using its configuration software - screen cap below). Also, I've installed Studio Edition (build 2efb7ff5), using VCV Rack 2 standalone application (same behavior by using VSTi, instead, from REAPER who's using 44.1 since many years) - EDIT the AUDIO module (DAW as "driver", sometimes it goes to 44.1k, sometimes to 48k, it's random).
However, everytime I bring any AUDIO module (eg: AUDIO-8), then I select "ASIO", then "Yamaha Steinberg USB ASIO", the sample rate for the module is - by default - defined to 48k, instead of 44.1k (defaults in my C.M. chain).
All mine ASIO applications such REAPER 6, Live 11 Lite, Renoise 3.3.3, Voltage Modular, Komplete Kontrol app, VCV Rack 1.1.6… by default detect 44.1k automatically (never 48k).
VCV Rack v1.1.6 detects:
ASIO.
44.1kHz (setting in my audio interface, and "Engine > Samplerate".
On new AUDIO-8 instance inside VCV Rack 2, the module is by default set to:
WASAPI Then 48kHz when I change WASAPI to ASIO + correct ASIO driver.
I precise I'm using the lastest version of the Steinberg driver (v2.0.3).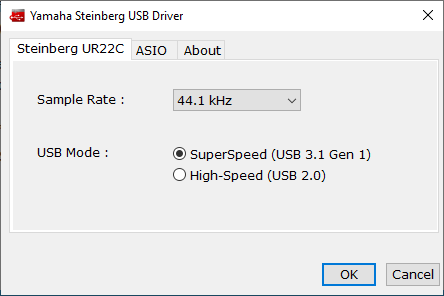 I don't know if I'm alone or not to get this behavior
TIA for help / recommendations.