Hoping someone can help me figure out a weird issue I have turning an audio pulse into a clock. The goal is to sync clock across two computers running VCV–no DAWs involved–so my buddy and I can play together.
Concept: Buddy's computer/VCV generates audio pulse from Clocked (e.g., bass drum)…audio goes into my computer/VCV into Hora Follower, which outputs a trigger to run Clocked on my system.
Testing this out just on my own system within one session of VCV…MOSTLY works. The trigger from the Follower can trigger a hihat directly–right on time. BUT…if I take it into another Clocked, it shows up at half the original BPM, and changing the mode doesn't seem to help. I can't find what setting I need to change to make it match up. I can always use a clock multiplier before my main clock…but why if I don't need to. Also, if I adjust the BPM on the original clock, there's several seconds of lag before the second clock "catches up" and gets in line. Is this just what I should expect, or is there something else I could be doing?
If it is helpful here is a link to a vcv selection that does this.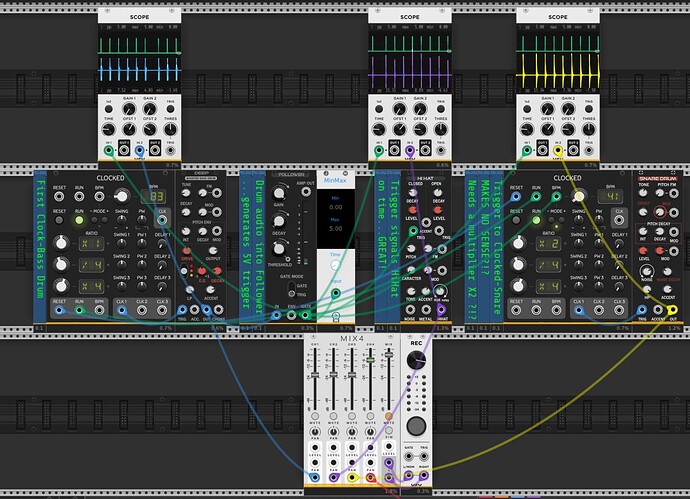 Please excuse my ignorance…I am just learning.
Thank you!