I am not sure how best to describe this, but if I start from a blank slate and add modules. For testing purposes, just MIDI > CV (V/oct, Gate, and Velocity) to Bogaudio's FM-OP, to AUDIO. I just updated VCV Rack to v2.2.0. Everything worked well before that.
After building a very basic setup, I use the Audio module to connect the output to my UAD Apollo 8, and everything seems to be working normally. But when I save, close, and open back up, I get this awful buzzy wave (see screen shot) around F#2 in pitch. Once this happens, nothing seems to cure it. Everything I opened in the past now opens corrupted. If you have any ideas, please share! Thanks!
Oh, another thing…if I connect to the MacBook Air speakers, it sounds great; no problems.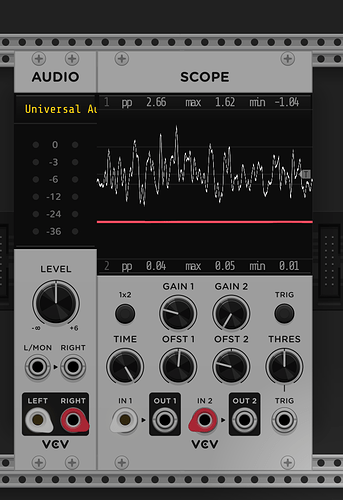 System info:
MacBook Air M1/16GB MacOS Ventura 13.0.1