Arcane, Atout & Aleister - Today's Fortune ★
Because of the excellent reception of my first serious module, Darius, I decided to try out something bold, unusual, that is more online game than module, and that makes use of the unique advantage of software synthesis.
Arcane is a fortune-telling module. Every day, a new fortune - comprised of a Tarot of Marseilles card, a BPM, a scale, and various patterns - is drawn. The twist? The values are the same for EVERY VCV Rack user.
See the video for an introduction, or read on for a doc excerpt.
Here's the patch from the video! Arcane Demo.vcv (210.0 KB)
Also available on Patchstorage
The patch has helpful notes on the side teaching you protips for my other modules, and even for other author's modules! You'll need a fair amount of free plugins to run it, here's the full list: 23volts, Alright Devices, Amalgamated Harmonics, Aria Salvatrice, Audible Instruments, Befaco, Bogaudio, Catro/Blanco, computerscare, Erica, Frank Buss, Glue the Giant, Impromptu Modular, JW-Modules, Little Utils, ML Modules, Mockba Modular, PackOne, RJModules, Racket Science, Recorder, Submarine (Free), Surge for Rack, SynthKit, Treasure Free, Valley, Via, Vult Modules Free
(Just download every free plugin! They're free!!)
This update also includes new features for Darius. I want to keep it a simple, focused, beginner-friendly device, so I focused on adding simple but powerful features, such as the ability to go backwards, or to provide your own random seed.
Read the full documentation on Github for details
Here's a little excerpt from the Arcane doc, I hope it will encourage you to try it out. I can't wait to see how people will decide to use it!
---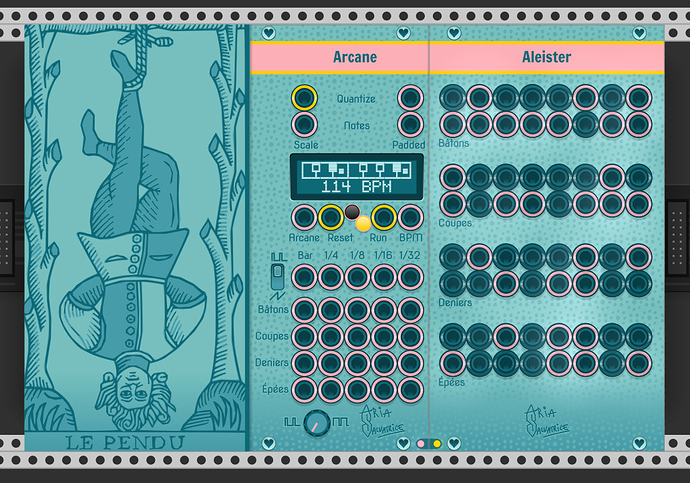 I hope luck is on your side. Every day, you will share together the fortune I shall grant you. It is your task to interpret what my augury means to you.
Modules in the Arcane series are comprised almost only of output jacks, sending today's fortune as CV. Those values are the same for every Arcane user, and nobody can predict or influence them. I pronounce a new oracle every day at 12:00 AM UTC without fail.
Every day, I will draw the following cards, and impart the following knowledge:
Arcane Majeur - a major arcana of the Tarot of Marseilles.
Bâtons (Wands), Coupes (Cups), Deniers (Coins), Épées (Swords) - a different 16 step binary pattern for each suit of the Tarot.
Scale pattern - The notes of a music scale comprised of 5, 6, 7, or 8 notes, often scales common in popular Western music, and sometimes less common ones. Which note is the root of the scale isn't specified, only which notes are part of the scale.
8 note pattern - Every note from the selected scale, sorted in a random order. If the scale has fewer than 8 notes, up to 3 different notes will be repeated at the end, an octave higher.
BPM - Integer ranging from 60 to 180 BPM, with values between 90 and 150 twice as likely.
My sincerest wish of luck, love, health, and prosperity.
How to interpret my fortune is up to you and your friends. You can make use of a single output jack of the module, or all of them. You can craft an ephemeral song that will no longer exist tomorrow. You can create an unchanging patch that will grace you with a new song every day. There are no rules but the ones you choose to follow.
Using this series of modules to their full extent requires a bit of creative patching, a bit of lateral thinking, but most importantly, friends to share your different interpretations of the same fortune with.
There is no offline mode, and no built-in way to load older fortunes, by design. These are multiplayer-only oracles.