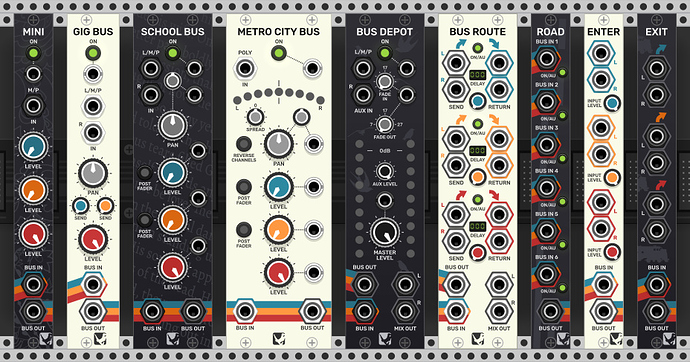 Glue the Giant's Modular Bus Mixers now come with the ability to quickly audition a send effect, a mix group, or an individual mixer with updates to the Bus Route and Road modules.
In addition, Bus Depot just received separate fade in and fade out knobs, fade durations of up to 34 seconds, and three fade modulation modes. As always, Bus Depot's faders and vu meters work with any sound source (through the AUX IN ports) or anywhere in a Modular Bus Mixer chain.
Other improvements make Bus Route easier to use, allow you to use fewer modules for certain mixer configurations, and add polish to live sets and demonstrations.
Special thanks to rsmus7 (Stephan) for beta testing and to browneditor for the push to enhance the Road module for live switching and bus auditioning. Thanks to everyone who has provided feedback or used these modules in patches. The Modular Bus Mixers (in 1.0.5) are easier to use, more powerful, and more fun, because of you.