Hello everyone! I'm very excited to announce a new version of the Voxglitch Groovebox, with a new custom front panel by Jim Allman (Interrobang Digital Media). I can't thank Jim enough for his amazing designs and assistance.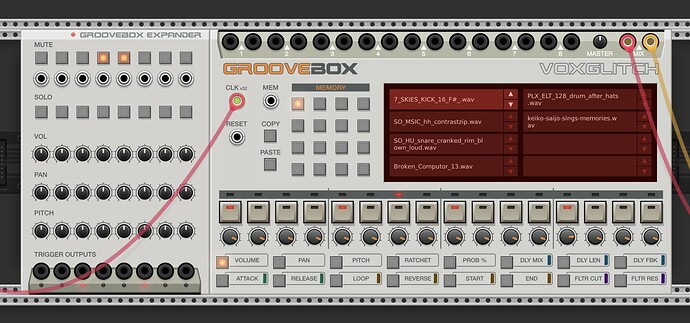 Here's just a few of the new additions:
Added lowpass filter to the parameter locks
Added next/previous sample buttons to the right of the tracks. This allows you to quickly preview samples from the same folder.
Added context menus to the step buttons, tracks, and parameter knobs, which contain a multitude of helpful functions.
Most keyboard shortcuts have been phased out. Please use the context menus instead. (It's a long story.)
Should be compatible with older patches
If you find any bugs, please let me know, or post them to https://community.vcvrack.com/t/voxglitch-community-feedback
I intend to stay on this project for a little while longer. I hope to make the code easier to read and maintain, plus work on lower the CPU requirements.
Now's a good time to mention my Patreon! Thanks!!