Hi.
Long story shortened - I watched the latest video from @Omri_Cohen on additive synthesis and it got me to a'thinking. I had used Beau Sievers's page as a guide to basic synth stuff and wanted to do additive synth to create a basic ramp/sawtooth wave from sines.
See the pic below for a guide.
In the top row I had used 6 VCO-2 with the fundamental at C4 and 5 harmonics at 2x, 3x etc the fundamental. In the mixer I set the levels of each at 0, -6, -9.5, -12, -13.9, -15.5 dBs respectively.
In the second row I had from left to right the Chebyshev, Additator, Peneque and XFX Wave. The Cheb had it's Fundamentals and 5 Harmonic levels set accordingly. The settings for the Additator were 'eyeballed' in the spectrum Analyser below them and I used the spectrum from the Peneque output as my reference. Peneque and the XFX had their fundamental and 5 harmonics drawn via their GUI.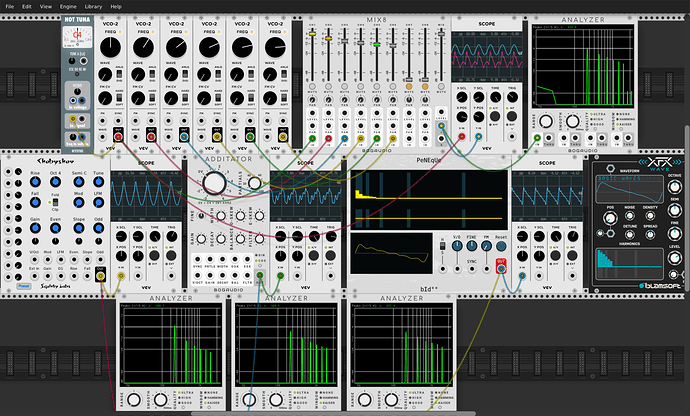 My issue - Considering all spectrums 'lined up', only the Peneque and XFX gave me a rough, decent looking ramp/sawtooth waveform as I had expected considering the small number of harmonics used. As an aside I used @Vortico's WaveEdit separately and gave me results like Peneque.
The 6 VCO-2 gave me something iffy as a sawtooth, the Cheb no where near a sawtooth and the Additator's wave was a garble as though there was some FM modulation.
So the question is - are my various methods with these VCO's valid? Should I get a sawtooth for all methods based on the spectrum or is there something fundamental (fundamental - get it?

) about each plugins design that negates my test?
Thanks,
Chris.