Hi guys! I'm pretty new with the VCV. I'm trying to create a live performance environment to use with my singer. I want to sync some synth riff with drum loops i create with other programs. So far my "template" is something like this: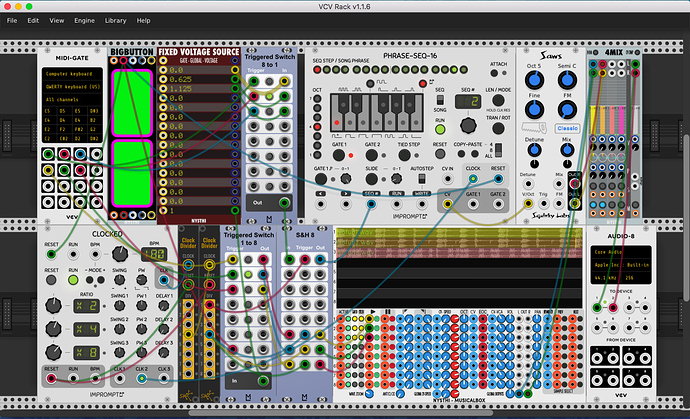 The drum loops are 180 BPM so the stay in sync. I use lots of phrase-seq-16 for notes CV and create verse/choruses, so the main concern is to sync a phrase-seq with a musical box, then throw in lots of them. The S&H module makes sure the sequences are switched at the end of the beat or at the end of the riff.
So far it works pretty well but there are a couple of problems. The main concern is that the musicalbox cannot reset the loops in gate mode, so it's not easy to sync everything when a drum loop starts at the wrong moment. It would be probably better to launch the drum loops with triggers, but for me is not easy to activate/deactivate loops with triggers. Also, the drum loops have different length, so i'll have to send, say, 1/16 of the clock in one loop, and 1/32 in another. A solution is to make drum loops of the same length and switch the clock, but i will lose some articulation.
Am i missing something? Are there better modules to achieve what i'm looking for? Thanks everyone and excuse the bad english!!!