Hello there,
I'm glad to announce my first contribution and the arrival of the 23volts module family to the wonderful land of VCVRack.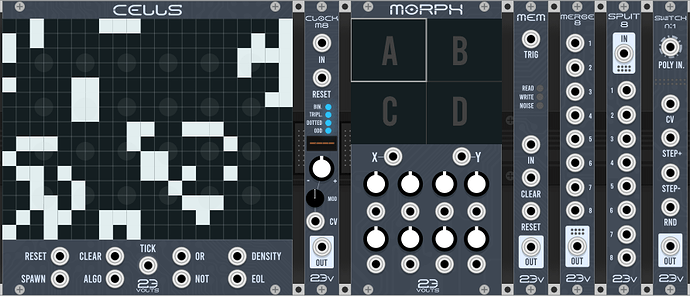 Cells is a deterministic gate sequencer based on Conway's game of life algorithm.

ClockM8 is a polyphonic, quantized, clock modulator designed for extreme clock modulation.

Morph is an XY controller which can morph between 4 different snapshots.

Mem is a Sample&Hold module with internal memory up to 16K samples.

Merge8 is an 8 channel polyphonic merger.

Split8 is an 8 channel polyphonic splitter.

SwitchN1 is a polyphonic N to 1 sequential switch.
It's been a long ride, learning C++, SVG panel design and Rack API, which was made definitely enjoyable due to the amount of open source plugins there on github (I won't give any names because my VCV-Examples folder is quite large… but guys, you know who you are… thank you!!

)
The plugin will be available soon in the plugin manager. For those on osx, a compiled version is available there :
It requires VCV version 1.1.6 or above.
Don't hesitate to report any issue here or on Github.
Have fun!