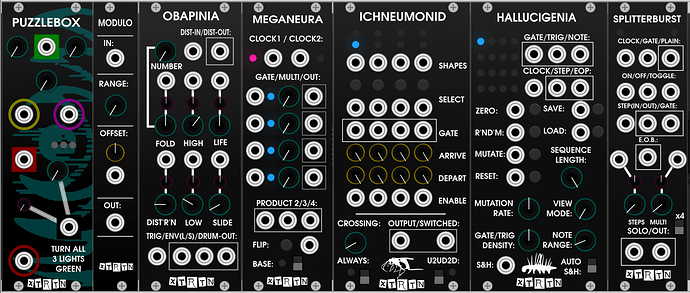 This is quite a big update to the XTRTN plugin.
Two new modules:
Ichneumonid: Randomly (or deterministically) switches between signals without creating discontinuities. The probabilities of crossing over may be configured separately for each signal. U2UD2D mode prevents sharp changes-in-direction, creating smoother patterns ideal for combining LFOs.
Meganeura: Four toggle-able clock tempo multipliers with three product-multipliers for more complex behaviours and reaching higher tempos. May keep track of two clocks at once, to seemlessly flip between base-tempos.
Other changes:
Any feedback would be very much appreciated. If anything is confusing, do check out the XTRTN guide - I'm always adding new details and improvements there. I hope you get something useful, or at least fun, out of these modules <3 Thank you for reading