Hello!
I'm working on my first module and intend to keep my panel designs nice and boring.

Would anyone know what font was used for the knob labels & CV inputs on the VCV fundamental modules? For example, see the Delay module.
Is it OK if my modules look similar to the fundamental modules? I'm assuming so, since I'm using the default knobs and such that appear to be built in to VCV Rack. My font selection for module names and company name would be different.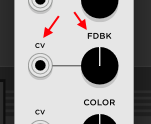 Cheers, Bret