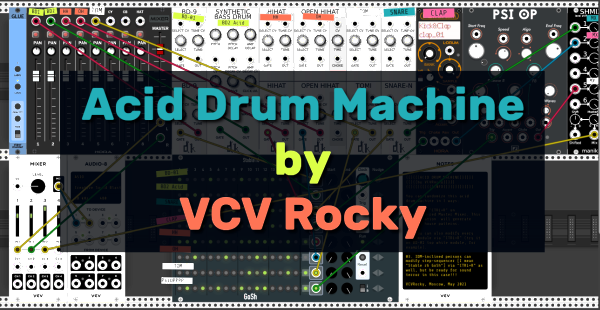 Hello, VCVorld! I will post my patches in this thread.
The first one is massive acid/tech-house drum-machine with visually appealing labels! This drum-machine had been constructed out of freeware modules, so it should work in any VCV Rack.
One can use at least 3 randomization methods for generating various beats (from classic house patterns to heavy IDM drills).
Please check the YouTube video with my explanations - https://youtu.be/QSjhOSr6ruc
Original patch can be downloaded from Patchstorage - Acid and Tech House Drum Machine by VCVRocky | Patchstorage
I am attaching the patch to this message as well - Acid-Drum-Machine-by-VCVRocky.vcv (47.8 KB)