My first post!
When clocking a VCV Host instance using an input (coming from Impromptu Clocked in this instance, but applies to any clock module) and the various clocking options, the tempo of the contained plugin rapidly fluctuates by +/- ~1BPM
For sequencing or tempo-dependent VSTs this often causes instability. Some examples I've tried below:
FL Studio - attempts to resync running patterns approx one every 6-7 seconds - this momentarily brings the whole VCV patch to a halt (possibly due to high CPU usage while the VST is adjusting)
FXPansion Tremor - as above
Cherry Voltage Modular - Sync coming into the VM patch from Host drifts by a sixteenth-note every 10 seconds or so
A screenshot from Loomer Architect: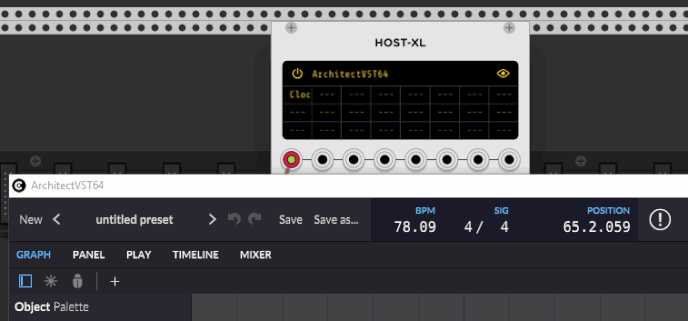 I'm aware of the following Issue - https://github.com/VCVRack/Rack/issues/1150 - but this was closed by Dev. I was unsure how best to follow up on that closed issue, so thought I'd throw it out to Community for points of view.
My thoughts:
Either VCV Host should improve clock processing to provide a stable, unchanging tempo to contained plugins
or
We should have an alternative method to provide tempo to the plugins, such as directly setting a tempo in VCV Host, or being able to provide a CV-based tempo (e.g. V/BPS) to its inputs.
My preference would probably be for the latter - as possibly even very infrequent changes to tempo for VSTs have the potential to make them "glitch", and that might be unavoidable when reading clock triggers.