im still hoping for this module to become available. are you still thinking about making a tracker as well?
maybe a x-mas surprise


regen modular frames does a good job here
do you need more functionalty for a tracker?
maybe a x-mas surprise


I am in here ! Please!

I'm actually working on an Arduino hardware providing a motorized tape-fake-reel that can be grabbed by hand. This hardware reflects all movements of the 'tape' in VCV rack on the screen to provide a most realistic feel of interaction (I know, it will never ever resemble the touch of a moving/turning real reel).
Without this hardware, you will be more pleased by using the NYSTHI SimplerTapeControl.
That sounds truly impressive and this is going to work in VCV Rack, all that mouse pointer clicking is gonna be very competitive and produce some great sounds. Got to get some great samples together to test out your module.
Waiting is boring!
Because of this I thought about how you could help me finishing this module. And yes, there's something to do and that forces your creativity. The cassette on the module needs some decoration. If you want, you can use the purple coloured areas and fill them up with some nice looking graphics.

here is the template.svg to start with https://raw.githubusercontent.com/Ahornberg/Ahornberg-VCV-Modules/master/manuals/template.svg
That's weird, I can't access the link you provided to svg file, I didn't think I'd been that naughty! Please Ahornberg can u post another link. Thanks. The module does look intriguing. So can we put any fancy pattern on it?
Thank you very much, see what wonders I can perform in such a small space. Good you are making progress on the module.
Now it's possible to upload SVG files, here's the template file:
The purple coloured areas only show the boundaries, in which can be drawn or painted. There's no need to include them into your creations.
Please feel free to upload your files here in this thread.
I tried to make some geometric pattern made in illustrator the second may be too small! hope you like them, looking forward to try your module

They look better than my efforts, all I got is a blood splatter type pattern so you have done better than me! The AHG =Ahornberg and the KTD=Killa Tape device. I second that emotion, is it Christmas yet? Ahornberg Tape Lime n red splatter|22x150
Unfortunately the designs uploaded so far are very fine grained and hardly visible in standard resolution. So I decided to take up your drafts and made something hopefully a bit more recognizable. Here are some designs I came up with so far.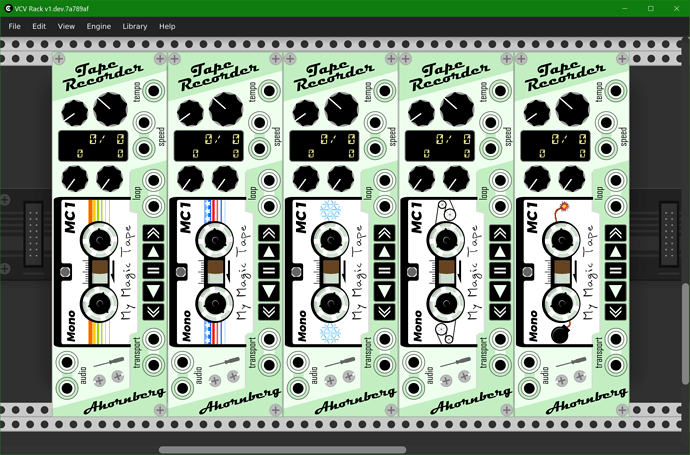 Thank you for all your inputs and ideas!
They look good, My poor effort was not worthy, I knew that, not used to working on such a small scale area. So are we anywhere near a release date -New years eve or New Year, we all need something to look forward to!
I used your design as inspiration for this one:

New years eve - man, that's tomorrow! I don't want to promise anything. Better a good quality release than a release in a hurry.
Thanks a least my input counted towards the progress! True when your ready, it's ready. Just eager to play with it! So are there new features on the latest version?