I am excited to announce that my free and open source Venom plugin is now available in the Library. See this for info about the 2.1.4 update.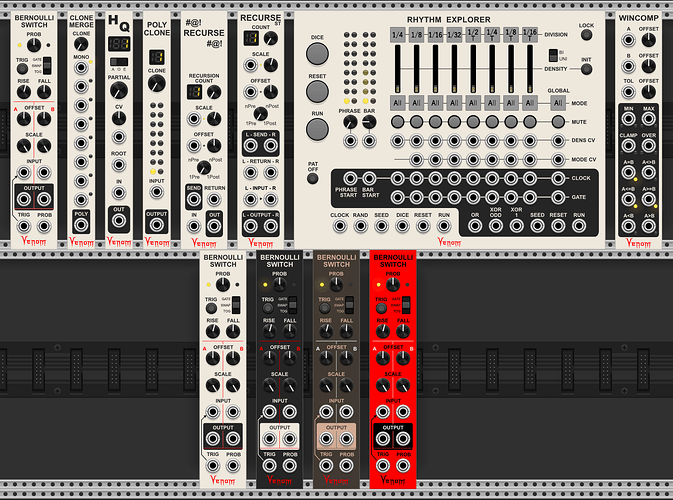 There are 8 modules, each with 4 different skins or themes available. Note - The plugin page shows a count of 9 due to a hidden VCO that is far from being ready for release, and may never get there.
Keep an eye on this topic - I hope to add some demo patches and videos soon. I would also love to hear about your experience with this collection.
EDIT - First couple demo vids and patches are available below
You probably can get some use out of the collection just by experimentation. But I strongly encourage you to read the extensive documentation if you want to take full advantage of all the features. Some of the modules are quite deep.
One of my design goals has been to keep the modules compact, yet readable, with a logical layout so they are easy to use.
Note that all of the modules are polyphonic! (Although Rhythm Explorer has only limited poly capabilities)
Special thanks to Andrew Hanson of PathSet modules for setting up my GitHub repository, providing advice and ideas for the Rhythm Explorer and plugins in general, and for writing the initial prototype code for the Rhythm Explorer.
Bernoulli Switch
Primary function - Randomly route 1 or 2 inputs to 1 or 2 outputs on demand. But don't let its size fool you. There is a tremendous variety of use cases, making it a great candidate for use in a fixed rack.
dual attenuverter with offset
dual constant voltage source
"traditional" Bernoulli gate, with both toggle and latch capabilities
random or directed switch, 1 to 2, or 2 to 1, or 2 to 2.
manual momentary or toggled gate
manual mute, either toggled or momentary
flexible Schmitt Trigger
… lots more
One thing I have been enjoying is to feed two different audio inputs to the A and B inputs, and also use one of them as a trigger to potentially swap how the inputs are routed. It can add interesting timbres, as well as provide stereo depth. The timbre can be modulated by changing the probability of switching.
Recurse and Recurse Stereo
Recursively process inputs via polyphonic send and return. You can even recursively process polyphonic inputs, as long as the recursion count times the input channel count does not exceed 16 channels.
One of my earliest obsessions when I first discovered VCV Rack was to hone in on individual harmonics from an audio signal by recursively passing the input through a polyphonic resonant filter - A very cool idea from Jakub Ciupinsky, documented in his excellent video VCV Rack Hacks - Supercharge your VCF . But the technique is a bit of a pain to patch up. My Recurse modules make it trivial to explore the technique.
But there are many other uses for the modules
Quickly generate a series of constant voltages, for example integral values from 1 to 16, simply by setting the offset to an incremental amount, setting the modulation mode to nPre or nPost, and taking the polyphonic Send output.
Introduce up to 16 sample delays by patching Send directly to Return
Easily create a flexible wave folder by combining Recurse with WinComp and a mixer. I need to create a video about this!
Recursive (or iterative) ring modulation - there are some cool sounds to be had.
Easily perform very high gain amplification for very faint signals - each pass can amplify a signal by as much as a factor of 10, so just 3 passes can amplify by as much as 1000!
Clone Merge and Poly Merge
These modules are designed to augment the Recurse modules, making it simple to clone multiple inputs to match the polyphonic output coming from the Recurse Send. For example if you are recursively filtering a 2 channel input 8 times, and you want a different cutoff frequency for the two signals, then either module makes it trivial to generate the required polyphonic cutoff input with 8 channels of CV1 and 8 channels of CV2.
Harmonic Quantizer
A really simple concept - generate V/Oct values for harmonics or sub-harmonics of a root note. I initially wanted this to work with my recursive filtering experiments. But it also works great for generating V/Oct CV for musical FM and ring modulation - easily generating CV with integral ratios.
WinComp
Think of the really nice VCV COMPARE module on steroids. I preserve all the capabilities of that module, but add the capability of setting a tolerance factor for every comparison. I also provide >= and <= to go along with > and <. And I add the option of taking the absolute value and/or inverting four of the outputs. Hopefully I also make the outputs more intuitive and easier to understand. I found some of the COMPARE outputs confusing.
Rhythm Explorer
This beast of a module randomly generates interesting rhythmic trigger patterns at the touch of a button. It is great fun to work with, but it is also extremely deep! I've only barely scratched the surface of what it is capable of.
Rhythm Explorer is greatly inspired by the Vermona randomRHYTHM Eurorack module. But it is most definitely not a clone.
Rhythm Explorer is missing a few features, but it also adds many new features not available in the randomRHYTHM, including the ability of capturing that amazing pattern you chanced upon so that you can use it later in another patch.
I recommend reading just the first two paragraphs of the documentation, and then diving in to have some fun. Then delve into the documentation at length and see what you can discover!