NOTE: Latest updates will be posted separately. Check later in the thread below!
Hey everyone.
Emmet here. I'm one half of Studio Regen (along with my brother and friend Eoin) and we just put out a new pack of 10 original modules, called Regen Modular, for just $20 on the VCV Library.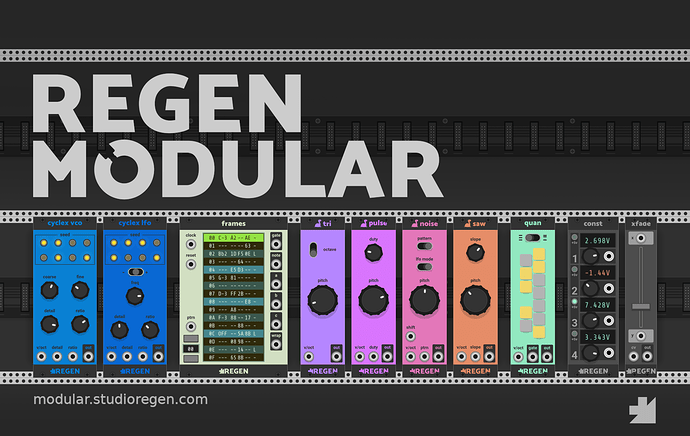 In no particular order, Regen Modular consists of:
Cyclex VCO and LFO
A pair of unique polyphonic oscillators that generate sound using simplex noise loops. A set of buttons at the top of the module allows for manipulating the internal seed, which not only creates a new noise space but also alters other internal parameters, giving each seed number its own distinct timbre. The detail knob acts kind of like a filter, blending smoothly from basic waves to something complex and harmonically rich, while the ratio knob 'warps' the internal noise space, creating a subtle effect that's (very loosely) analogous to duty or phase modulation. I don't think there's any existing software or hardware oscillator that works or sounds quite like Cyclex, so it's been really fun to design and play with.
Frames
Frames is a sequencer in the style of tracker software. Capable of storing up to 256 patterns, with 16 frames per pattern, and 1 note plus 3 parameter values per frame, it's pretty beefy while still maintaining a pretty small footprint. Notes can be turned off or set to legato, the active pattern can be changed via note-aligned CV, and the module emits a signal each time the sequence wraps back to the first frame.
Nessie Triangle, Pulse, Noise, and Saw
The Nessie modules are all VCOs that emulate the classic sound of the 2a03 and vrc6 NES sound chips. These are recreations of shamelessly nostalgic sounds that we all love, and we've tried to strike a nice balance of staying true to the retro chip sound while also making fun and usable modules. Especially when paired with Frames, Nessie can inject a bit of chippy goodness into your patch.
Triangle, Pulse and Saw are polyphonic.
Quan
Quan is a polyphonic chromatic pitch quantizer with a couple of neat features including 2 distribution modes and a gate trigger output that fires each time the quantization threshold is passed.
Const and XFade
Finally we have the two utility modules, Const and XFade. Const is a constant DC voltage generator that operates in either the -5V~5V or the 0V~10V range, and XFade is a simple polyphonic crossfader that interpolates between two inputs and can be controlled by CV.
The full details about all of our modules can be found in our manual page.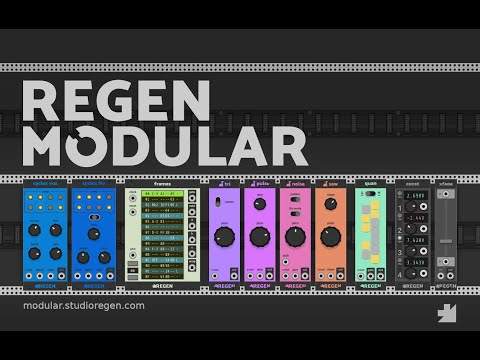 Also, here's a short demo/trailer containing various weird example patches that we put together. We can't wait to see what other people do with our modules, so if you end up picking them up and playing around with them let us know what you make. =]
Questions? Comments? Let me have em! Oh and, finally, follow us here, on twitter and on youtube for the latest.
Thanks everybody! – Emmet.