A topic for discussion of Racket Science modules, I want to make them as useful as possible so would be grateful if people would suggest features etc here.
I sometimes build 'cover' patches so I can jam along with my favourite tunes, sort of. Recently I've been building a Doors-o-matic Riders On The Storm patch (or Sliders On The Storm with Boogie Bay thrown in

) and in order to set a quantizer so I can jam along without hitting sour notes I had to pick through the midi file to work out the scale as my ability to work out such things by ear is virtually non existent. It then occurred to me that a note heat map might be a handy thing to have, had a look through the module browser and there doesn't appear to be one (please correct me if I'm wrong), so I've built a quick prototype: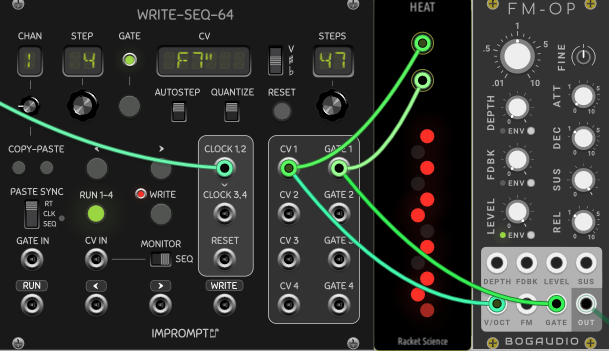 Here it's being fed the falling rain phrase and showing the scale. Currently two inputs, V/Oct & Gate. Will probably add a reset button, maybe a control to adjust how quickly the light brightness increases. Is this useful for others? If so what else might you like to see in this module?