when? where? who? what? why?which?www?
Cool, I had a lot of fun using vector victor with my, then new, LPD-8.
There are currently two modules, RAND & SLEW. SLEW is a polyphonic slew limiter which will probably be removed as it doesn't bring anything new to rack, I needed to develop it in order to add slewing to RAND without overly confusing myself in the process. Thanks are due to @baconpaul as I gutted his glissinator.
RAND will randomise every parameter enabled for randomisation of the module to the immediate right by the percentage set by the % knob. If you want to exclude parameters from randomisation use Stoermelder GRIP set to work at audio rate for now, I intend to add functionality similar to that in Stoermelder STRIP to do this in future.
Note that by default randomisation is accumulative, parameter values are read, randomised and reset every trigger, this results in a random walk type behaviour.
Hitting PIVOT will store all current parameter settings and while PIVOT is active will randomise those stored settings instead of reading them from the target module, which suppresses the random walk behaviour.
This is VERY much a work in progress but is far enough developed to be great fun to play with, my module of choice for testing has been Pink Trombone played with Impromptu PROB-KEY.
Max slew is currently one second, this will change but to what I'm not sure. All observations / suggestions welcome.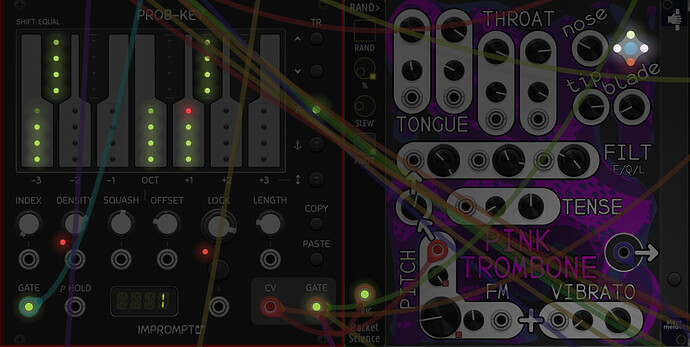 Gutting is probably the most appropriate thing to do with that module - lol. Glad it could help!
Oh when you randomize do you exclude items whose param quantitiy has randomize set to false in the model? If not uhhh…. Use a limiter if you use this with surge.
Not yet, that's next then

Edit: Done.