I have a slider and based on some conditions I"d like to present the label of mouse-over-param event as an integer (1 to 16) or sometimes as a float number (-10.0f to 10.0f or 0.0f to 10.0f). So I want to change the display formatting on the fly.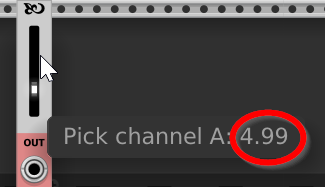 configParam(SLIDER1_PARAM, 1.f, 16.f, 1.f, "Pick channel B");
paramQuantities[SLIDER1_PARAM]->snapEnabled = false;

I just can't find the way… was it a paramQuantities trick?