wow, I like that (even it it is a bit retro). Pedals sounds good!
Sure, go for it. I thought it was a pretty realistic simulation of a Leslie.
oh, that is a cool sound!
Here is my new piece called "Meandering Organs 3 by 3". Meander is composing for and playing 3 instances of Organ 3 in Bb-minor. For fun, I automated all of the organ bars as well as a lot of Meander params. I love Organ 3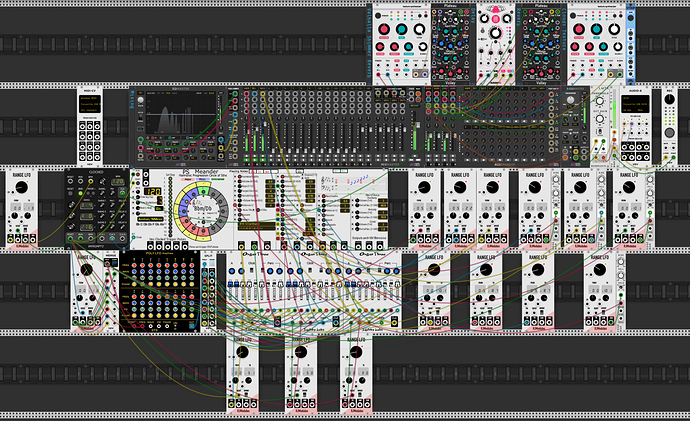 Wow, how to change the cable to pink?

You can change cable colors in settings.json in the Rack folder.

There are also a few modules to do it on a per patch basis, like the submarine wire manager and Count Modula Palette.
@Aria_Salvatrice Aria's Darius module could be cool too for controlling the stops!
Yeah,Meander sounds like quite the real organist.Must look into this module if/when I get a chance.
And,Organ Three sounds quite fantastic. I'm not a huge Hammond emu affionado,or anything like that,but still,I must say this sounds superb,both as an instrument,in it's own right,and as an emulation of a classic,that's definitely inthe same sonic galaxy.
Just FYI Surge-Rack 1.7.1.1 went into the library today and it includes a switch on the drive stage of the SurgeRotary (as well as a few other minor changes, and our new Surge logo). And @Squinky that organ does sound great indeed!
Organ Three sounds amazing, great work @Squinky and thank you for releasing it pro-bono! I used to have a real Hammond B3, and also played keyboard in a classic rock cover band. The sound is pretty spot-on to my ear.
An abbreviated Cover of Green Onions using Organ Three:
thanks! you are making it sound very good here - glad you are liking it. I have to confess that in the few times I've played a real Hammond I have always tried to pick out green onions. Not as well as you, however.