Aw, I was hoping I wouldn't be skipped from a roundup again! Did they get released too late in the month to make it?
23:30

Ah nice! Didn't see them in the index or when scrolling around those misc sections, my bad
Yeah, I'm sorry, but I didn't have enough time to study them for the video…
Ah no worries! I was afraid it fell through the cracks, with my plugin having been out of date on the library for a month.
Hi Omri nice as usual, but take a look at this :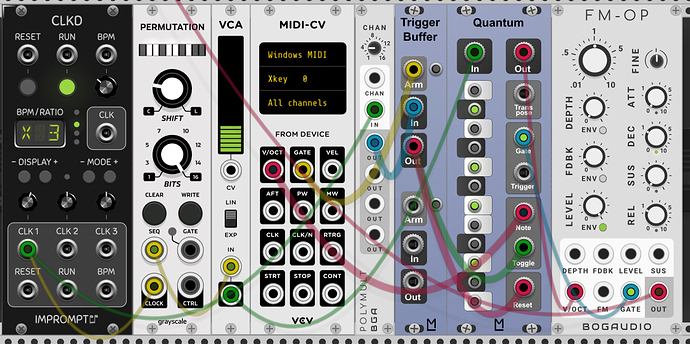 Here I route the gate (via the Trigger Buffer) also to the Reset on Quantum. I also had to multiply the clock outs going to the Trigger Buffer for this to work. But now I can play a chord, and when I play another one the old one will be reset and replaced by the new one. No need to hold the chord, and the trigger buffer makes it play on time.
Oh nice, the Trigger Buffer is saving the day once again

I usually use S&H for this, but I didn't show it on purpose so people can experiment a bit, and I can also learn something new, like this trick, for example

So thank you for this!
Beau travail, Omri

Very interesting, merci Omri.
Battery programming is perfect