22 modules in 2HP - a collection of densely compressed utilities, sequencers and experimental builds for VCV2. DOWNLOAD: https://github.com/JohannAsbjoernson/JA
Count - two triggerable Counters
Veins - 2HP clone of Bernoulli Gate (Audible Instruments)
Comparator - Compare a (poly) input against a voltage. Outputs Gates and Voltage Divisions.
Debug light - 2HP clone of Debug (computerscare)
Poly Tools - Poly merger, Cloner (basic, global offset, voltage spread), Poly to Poly L & R (i.e. MindMeld), Poly SUM to Mono (w. gain), Redact total Channels of a Poly Cable
Switch - 2:1, 2:1, 1:2, 1:2 gated switch… currently no latching mode (coming soon)
Morph - Crossfade between Channels of a Poly Cable (top & bottom), Crossfade between two (poly) Signals (mid).
N1 - Poly to Mono Sequencers / Switches. Normalled SeqSwitches which can operate independently. 3 Modes (Forwrd. Backwrd. Random). Takes a Poly Signal and Sequences their Channels. Bottom Out is a Poly of all 4 Sequencers.
SEQ16 - Trigger, Gate Sequencer & Voltage Switch. TRG out for each active step, adjacent steps are turned to Gates at GT out. CV in takes a Poly Signal and outputs its Channels on the respective active Steps (step 8 = channel 8)… 2 Modes: S&H (Samples CH in at CLK in) & Switch (routes original Signal out). 3 Sequencing Modes (Fw, Rw, Rd). Length knob, Reset in, End of Cycle out.
DivSEQ - Clock Division Trigger Sequencer. 4 Clock Divisions (1/1 to 1/32 for now, w. on/off for each), global Probability, OR & XOR output. CV input is a bit buggy still: takes trigs/clk/gt on channels 1-4 to turn divider 1-4 on/off.
CRG - Count Modulas Clocked Random Gates in 2HP. With channel selector, probability knobs for 8ch, Multi/Solo mode, Gate/Trig/Clock outputs.
Flamm - Count Modulas Burst Generator in 2HP. Internal & External CLKing, # of pulses raised to 24, pulse probability, Retrigger button (on/off), Pulses/Start of Cycle/End of Cycle Trig outs & Duration of Cycle Gate out.
CV Bank - Complex Voltage Storage based on Towers by unless modules.
SHSeq - Complex Voltage Storage based on Towers by unless modules & N1 by 23volt.
Mono to Poly Shift Register - takes a Mono input with a Trigger and saves the Signals to Channels of its Poly output. 16 Signals max. A built in N1 Sequencer can resequence it to Mono again. There is a lot of use for this - especially in generative music production. Seriously. Get creative.
DRONE - 1-8 Voice(s) with addable Drift (Strength & Speed). Basenote selector (Oct & Semi) or vOct in (CV in). Each voice has its own offset from -8 to +8 Semitones.
NOISE - Dust module with Low-Pass-Filter, Gain and Random Clock out (great to drive a S&H to modulate filter, gain and rate). External Clock in is working, but unsatisfying. This is basically an experimental noise or voltage generator at this point.
Merge / Split - Merge 16:1 & 8:1 with right-click menu to choose total channels (default [0]: auto), Split 1:16, 1:8 with LEDs reflecting the amount of active channels from the input.
DIVSeq Demo: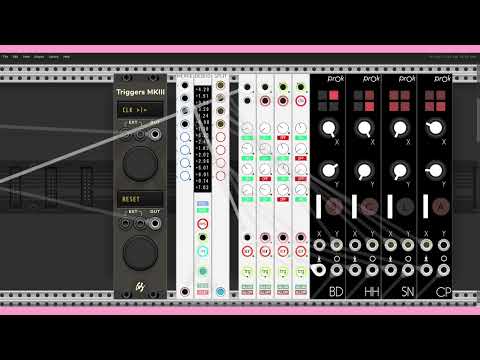 Flamm Demo:
Seq16 Demo (Rythm focused):
Seq16 Demo (Musically focused):
N1 Demo:
Comparator Demo:
MORPH Demo: