What are your temperatures like?
Same here, -18C, and with windchill factor, -30C. Keep warm!
-31C (-23F) in Minneapolis, Minnesota USA.
-21 C here in Canada's Most Southerly Town.
I went to take out the trash,. my hand froze to the metal door handle trying to get back in the house,. is damn cold!
Believe it or not, I think its warming up. Stay warm everyone


Edmonton Alberta reporting (53°32'N), here's our beautiful incoming doom as the "Polar Vortex" swings back west…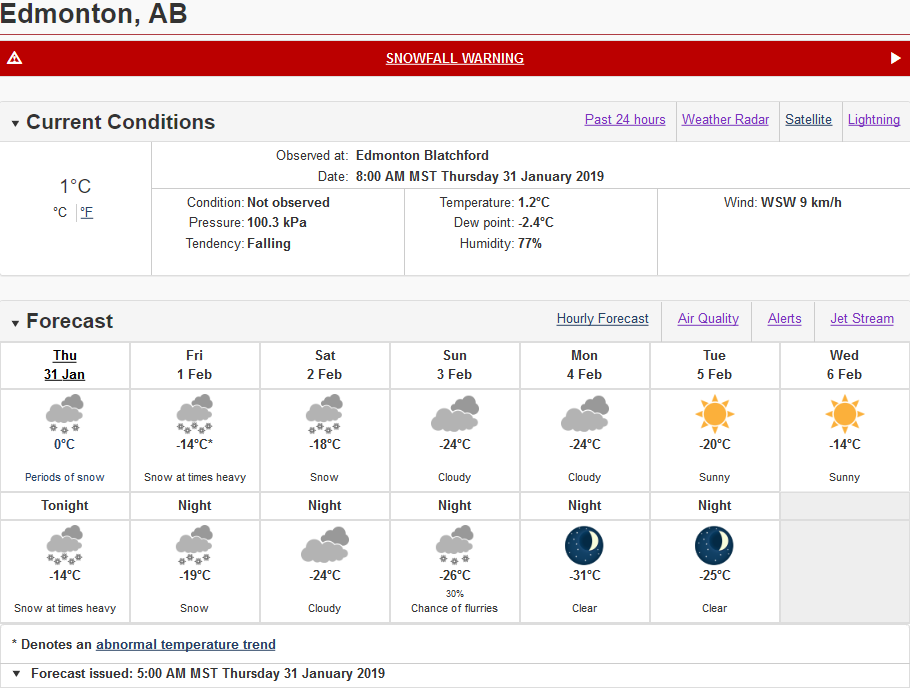 Also known as nothing out of the ordinary for me (I grew up in Fort McMurray at 57°N), save for the 6-12 inches of snow between here and Saturday…
15º here in Calgary !
(AH pardon, in Cagliari… )
244.8° K here…

-29C in Winnipeg. I think that's around -20F? Either way, we're warming up as well.
Woke up yesterday to -40C (-50 something with windchill). That one is easy to convert to F because it's the same…-40F. So yeah that kinda sucked.
Thanks for sending in your temperatures guys. There are some amazing ones there and most of them lie way outside my range of experienced temperatures.
Here in the UK we are having a little bit of snow and sub-zero temperatures, even here in Cornwall by the sea, where it normally just rains all winter. The news channels and media go on like this is a national emergency. They show no sign of embarrassment about this in comparison to what is hitting your continent

As a contrast, it was +45C here the other day
Hey I'm just north of you in Mahtomedi! -25F this morning. Running Rack on my MBP is keeping me nice and toasty.

wow, America is like Siberia now.
btw -10C in central Russia (as always January)
Wow, I also read that its like Siberia in the US.
We got -4°C (in Austria) today and tomorrow we should get +10°C lol… wouldnt be the first time that this happens… with jumps of more than 10°C from on to another day…
Oooh, that's bad! I've tried that in Greenland and it's no joke.