Hello user711,
welcome to the forum.
Just to make sure: do you have a headphone connected physically directly to your mac?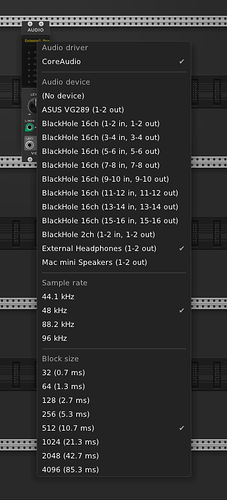 Mine show up as an empty line, nothing appears to be written but it works.
Try selecting the blank lines in the drop down list. I've got a similar issue where the item showing in the module display is correct for the output device that's in use, but the incorrect item is selected in the drop down. I've emailed support with details about it.
thank you for your reply Eurikon. Yes I do have a headphone connected but it shows as those blank lines. and when I click them I can hear nothing
wow seems like I don't have to worry about those blank lines. The question now is it doesn't work when I click them
"Some applications not manufactured by Apple don't support separate input and output devices."
You solved my problem, thank you, the blank line. Would never though of that.
just as written here:
my guess is: it might be a problem with special characters in some languages. what do you think?
It would make sense, since my computer is set in french, headphones would be: écouteurs. My guess would be accent are not recognized.