… Hi everyone … … how can I easily get -10/+10V from VULT Caudal? On all 12 outputs …
thanx!
excellent … or another question, how would create soft knees for Sn'H? (If it is possible) … thanx
Oh yes, the Glissinator … I've tried to use Befaco so far, but yes, Bacon looks simpler in this case … although it's still not a beautiful knee, but when modulating, the smaller details are negligible. Thank you again for a simple image answer!
… basically, SnH are random pulses from noise … how can I modulate the LFO sine wave to achieve a similar random effect? … with SnH? … another beginner question

thanx!
Well there is also this, not really know what part / or if I'm answering anything at all :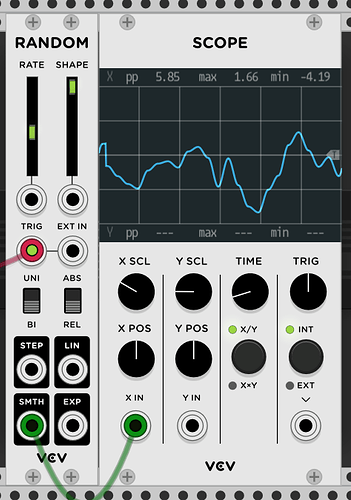 Edit or even like this :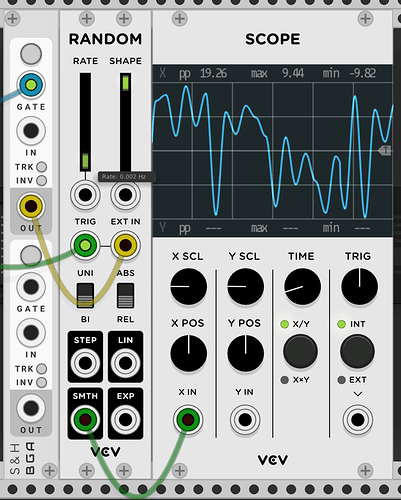 Glissinator is interesting for operating in constant time, unlike slew limiters do. It's interesting to compare them side by side with the same input to understand the difference better.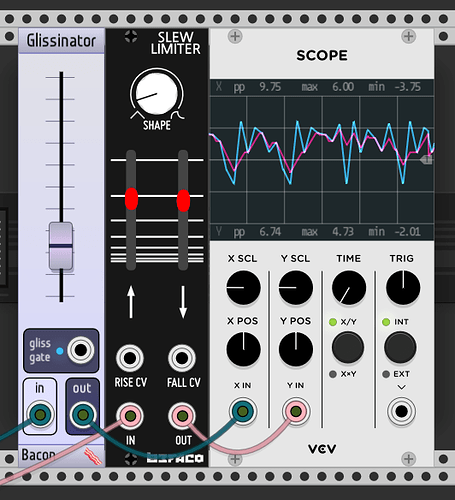 The super simple description of sample and hold (s&h) is that it takes in a signal and a gate. When the gate is high (or triggered if you want to think of it that way) it "samples" the voltage in the input and sets the output to that voltage until the gate is triggered again. Many sample and hold units also have an internal noise generator that is used in place of the input when there is nothing connected.
like this one … Random with SnH … signal looks like I needed …
multiple people have made the request for a Scale/Offset addition for Caudal,. a couple trim knobs or a right-click menu option would make this module way more usable.
Constantly adding an attenuater on each output has lead me to switch to other sources of controlled random,. wiqid makes some strange attractors that come with a scale control for instance, however the lack the reset-ability of Caudal.
Hey, if we are talking about controlled randomess of course there are zillion cool module for that, and they are mostly all different. Hope you don't mind a shameless plug here. We have this one, "LFN" that used to be super popular, and still shows up from time to time. It's a graphic equalizer that filters noise, except the EQ bands are at super low frequencies. In this picture the frequency range is from 2/10 of a hertz to 3.7 hertz. But you can shift the range around. The minimum is 1/100 of a hertz. And since the frequency is so low it uses almost no CPU.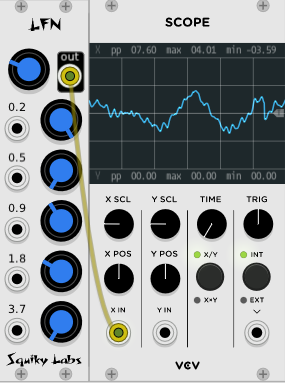 ou … I try it! thank U! greetings
… I answer a little later, butI Love LFN!!! … work with it is great!
Excellent! Glad you are enjoying it.