Hello everyone,
I have recently released a plugin, Extratone. Version 1.0.0 was released in a rush just out of curiosity, but the new version 1.1.0 has three modules worth looking at: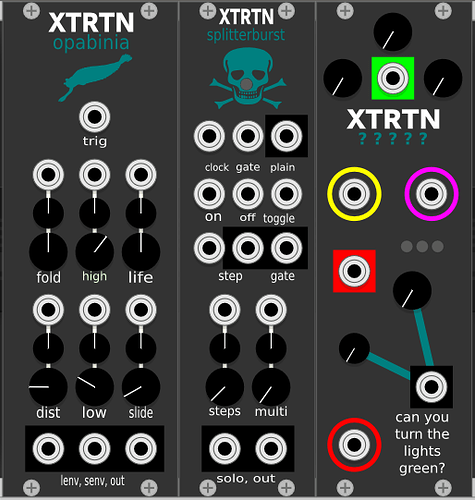 Splitterburst: A temporary clock-tempo-multiplier with multiple trigger-to-gate utilities. The "step" output may be useful for snare-rushes, as there is a multiplication-level CV input. Very useful for producing Speedcore/Extratöne music too, I recommend chaining a few of these together!

Opabinia: Bassdrum module with two envelope outputs and distortion. There was a version of this in 1.0.0 - but a lot has changed since then (please give it a second chance! ). Now all the parameters may be CV-controlled and the distortion effects have been reworked. Envelope outputs make it easy to build on top of this simple but effective bassdrum sound.

Puzzlebox: Okay, this one is a bit gimmicky and not very musical. Making complicated racks in VCV Rack is simply too fun, so here is a module that encourages you to build unconventionally. Have your voltmeters ready!
Guides as to what-does-what on each module can be found on the Extratone website. Thank you for reading!