Now to get Carla running!
I host the old VCV bridge (stills works with 1.1.6) in Carla: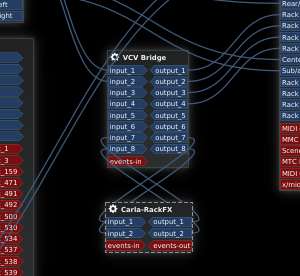 Lol. I remember this, yes. Used Linux for 15 years, a lot of those years were with JACK/Ubuntu. And I had issues just to get things to work without any particular success. If you don't know, KXStudio(whether still on hiatus, not sure), has many plugins all in their repositories. Though, I'm not sure how nicely it'll play with current installations. The repos worked well under Ubuntu as it built from it. If you try, don't blame me if bits start flying everywhere(if the OS explodes/stops working well).
I ran the KXStudio distro for a while until it got too old, Mint now. The only plugin I use these days is Harrison Gverb+, and occasionally multi-band dynamics, everything else gets done in VCV

How I used VCV Rack/Ardour/Harrison before.

I've used Ableton since version 4 or 5, then Bitwig since it came out, but still I smile in a very different and harmonic way anytime I open up Renoise… Definitely my desert island DAW.
you really do wonders with Renoise ! I also really like the many Bitwig grid videos you posted

REAPER's been my fave ever since I progressed from CWMC 2003 (not bad "starter DAW" for the time) to ACID 7.0 (horrible MIDI and plugin handling) to Cakewalk SONAR X1 (buggy, bloated)… I've always been a sucker for freeware plugins, and REAPER has always had the least troublesome plugin managing of any DAW… 32-bit synth from 2008, or the latest VST3 hotness, it. just. works. No waiting while some manager re-scans every plugin every time a DAW's opened, no fussiness over folder designations, and if an instance of a plugin crashes, it won't take my project with it… I can get on with making and mangling audio, and the only bloat's my own fault, (my plugins folder, cough cough)

I also believe MuLab is severely underrated as a DAW, especially for people who value both quick creative flow and under-the-hood accessibility.Maybe not the first choice for, say, symphonic scoring/arrangement duties, but for those of us who thoroughly enjoy unabashedly electronic expressions of music won't find much to be sad about in MuLab's feature list- MuTools is most definitely not going for retro appeal in their design philosophy… what Melda is to plugins, MuLab is to DAWs, in regard to a "we heard you like modulation, so we put modulation in your modulators so you can modulate while you're modulating" depth to everything.
Hey man dont tell them about MuLab. Its secret tech.
Logic Pro X for me, I use the midi fx quite a bit with my mother 32 and really like the compressor and Pultec emulation. I doubt I use 5% of it's features though.
Oh hey, seeing this thread bumped reminds me, a reason Reason is my favorite is player devices. They're easy, fun to use, and very musical. Kompulsion is my favorite, it's a fantastic songwriting tool, a great drum sequencer, and the secret behind the funky basslines I'm the proudest of. It's a very different workflow from VCV.
If you have a Reason license, this month the developer has made free the two devices that inspired Kompulsion - Korde and Propulsion, be sure to grab them!
my personal favorite is Reaper, but I would like to mention Tracktion Waveform 11, which has a versatile and usefull free edition
Ableton Live 10 : CV Tools Pack with VCV Rack

Great to see there's a lot of people loving trackers like Renoise. I want to suggest trying another program called SunVox – it's free, Win/Linux/MacOS/iOS/Android/younameit builds etc.
As for me… it was Ableton, and i dropped it for VCV Rack. So no DAW here i suppose

Sunvox is really great, fun to use and full of possibilities!
(Keep in mind it's paid on android and ios tho

)
It also works on computer!
I wish I had a bigger phone, on a 6s it's a pain in the butt, but looks, feels and sounds good!
I mostly use it on computer, it's a nice little app ! and when i see what the type of music the dev or the power users make, i realize it's even more powerful than i thought

Harrison Mixbus here too, on Linux. Based on Ardour, unmatched mixing experience.
Renoise and Reaper here.

but Amiga/Audiomaster IV/ProTracker 2.3 will always be my valentine.
I used tried a lot of DAWs in my 20 years of producing. Cool Edit Pro, Cubase(is), Nuendo, Vegas, and ProTools come to mind as brief candidates, but my first love, Acid, is still on my computers. Started with version 1 and now on 11. Three owners: Sonic Foundry, Sony, and now Magix! I have gigs of loops and Acid makes it easy for me to audition and add them to my mixes.
The first real DAW environment I really liked was Paris by Ensoniq. Forget the Emu crap. This is Ensoniq all the way. With those luscious SHARC chips spewing out DSP magic that has yet to be equalled. Mindmelds eq in the mixer? We had that 20 years ago! Slam levels into the RED and get saturation, not distortion? Try that Protools! I still have a (theoretically) working Paris rig in the basement, but I work in the box these days.
Since version 0.92 (IIRC), I have been a Reaper customer. It works, sounds great, supports all the hardware and software I throw at it, has a good development model for the long term success of the product, and is extensible out the wing-wang!
Paul "Uncle Chrome" Artola