I believe the v2 update for Volume 1 is complete. I've now changed the default branch in the git repo to v2. The link can be found from the VCV Library.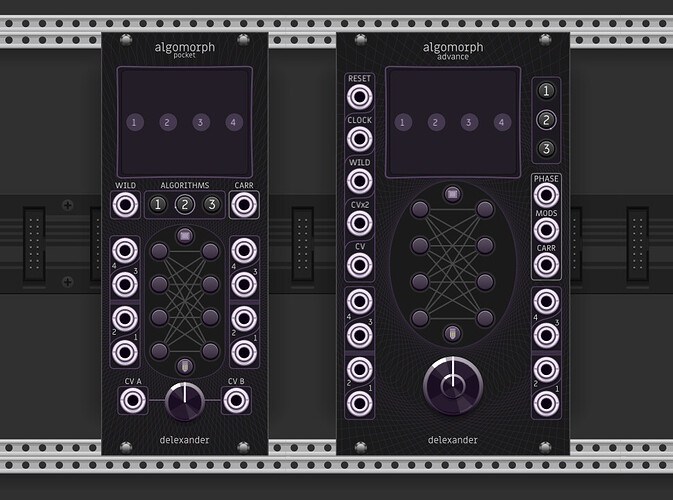 New features:
Display button now lights up when pressed!
Add display visualization for designated-carriers
Add display visualization for self-routing in Alter Ego mode
Add knob, button, and port tooltips
Use new VCV Component Library graphics for knobs, buttons, and ports
Add support for Rack v2 light bloom setting to all lights
Add explanatory message when viewing a non-visualizable algorithm in Edit Mode
Glowing panel ink has been removed
New module: Algomorph Advance is officially released

Includes dynamic tooltips on the assignable inputs, check it out!
I would also like to announce that once Rack v2 launches, Delexander Volume 1 may be converting to a premium plugin. It would retail in the VCV Library at a price of $10 USD. The code will remain licensed under the GPLv3, and all would remain welcome to download the source from a link provided by the VCV Library and compile for themselves at no cost whatsoever.
I will no longer be personally providing builds. Purchase from the VCV Library would grant access to the official builds, automatic updates, priority support, and help to support further development of both Delexander modules for Rack as well as VCV Rack itself.
At the time of the release of the premium v2 update for Volume 1 on the VCV Library, all existing subscribers to the Volume 1 plugin would be granted a license for the premium plugin at no charge.
So we are presently in the midst of a Grand Farewell Rack v1 Sale: from now until the release of the v2 update for Volume 1 on the VCV Library, this potentially premium plugin for VCV Rack is available free of charge. Subscribe now in the VCV Library, and tell your friends!
Also, there's one more thing to share:
Coming soon…