Hi,
i am working on a new script/formula module called FormulaOne.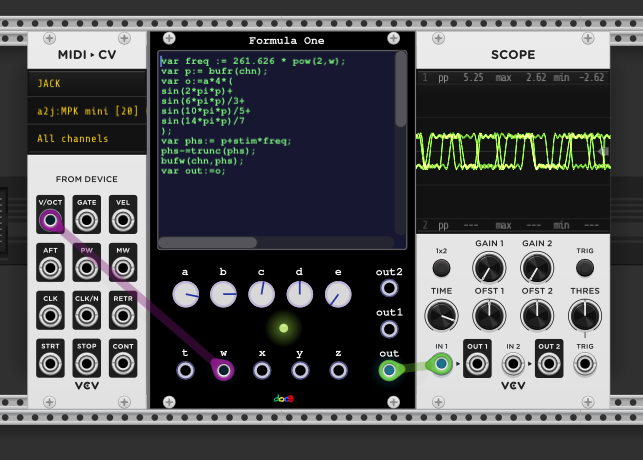 A pre release can be found at https://github.com/docb/dbRackFormulaOne. I have made a small manual in the Readme which shows how to make Oscillators, Phase controlled Oscillators, Wave folders, Filters, Comb Filters, Stereo Delays, Random and Hold, CV Sequencers, Gate Sequencers, Chord Sequencers, Envelope Generators.
It is based on the exprtk expression library which has very good benchmarks.
Of course it is not intended for replacing native modules because they still will be faster i.e. consume less CPU and provide more usability. It is for experimenting, learning and making special things.
It is only tested for linux so far. Tests on other platforms, opinions, requests are welcome.
On Windows unfortunately the module will be slower as i had to disable optimizations of exprtk which cause that the compiled obj file exceeds the accepted size of the mingw compiler (provided in the rack-plugin-toolchain). Due to the docs of exprtk it should compile fine with the MVSC++ compiler (which i don't have).