I Love Cookies (cv/signal sequencer) and Oh Peas!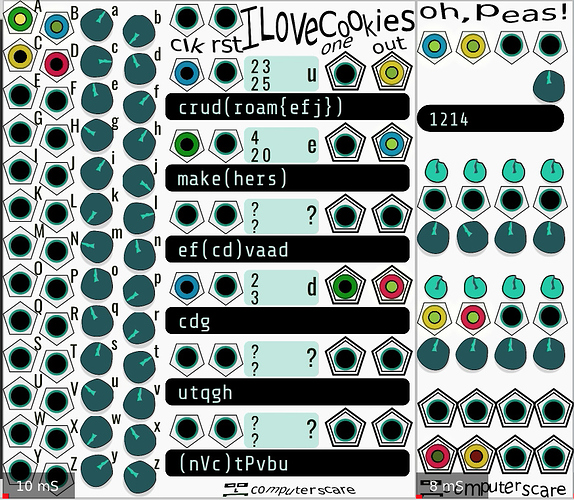 I'm working on some new modules. I plan to release them to the plugin manager within the next few weeks. The code is available on github if you'd like to build and run yourself.
I Love Cookies is a 6-channel CV/signal sequencer. You program a sequence by entering text. Lowercase letters a thru z are used for the knobs (constant CV), while uppercase letters A thru Z are for the 26 input jacks.
Oh Peas! Differential Quantuverter is a 4-channel CV-controlled attenuverter/offsetter/quantizer. The top "block" of input, small knob, and big knob for each channel is the attenuverter. The bottom "block" is the offsetter. The scale used for quantization of the attenuverter/offset signal is entered in the text field. Entering "2212221" will quantize the attenuverted/offset signal to the major scale. Each number in the input is used as a distance between notes. "3333" will quantize to a diminished chord (4 minor thirds).
Preview Video: Preview Video - Computerscare Modules I Love Cookies and Oh Peas