I find computerscare modules brilliant. Has anybody ever tried to convince the developer for more traditional panels?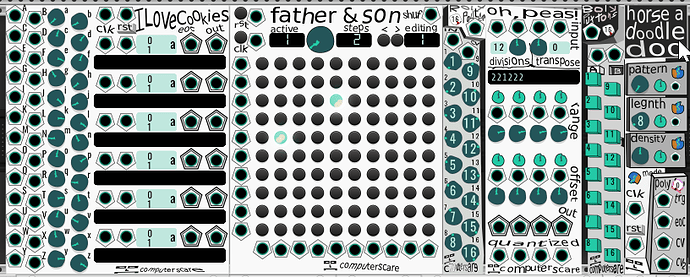 They are brilliant but ugly as sin for me

I've often thought they'd make a great project for a design student, make them look as good as they work. Same goes for Squinky Labs.
I love them, the polyphonic helpers are great and horse a doodle do is instant creativity. And I love the design… sorry. It's unique and chaotic.
I don't want them to change at all except perhaps for a dark version (they look good in dark but some of the text is drawn from code). They are rather unusual but I think they are very innovative at the same time - some of them, such as the Stoly Fick, can draw graphics outside of the module boundaries so they can overlay other modules. I love the ugliness!
As rudimentary as it might be, look at how 3D Boly Puttons is, there are very few modules doing anything like that.
I have Foly Pace in my template and it makes me smile every time I look up and see the stupid face changing to the music.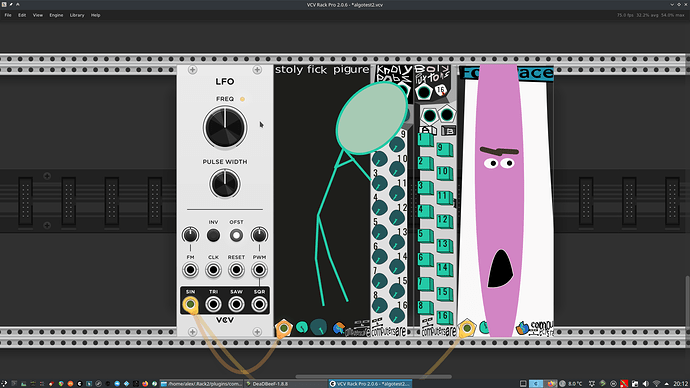 Also I'm fairly sure somewhere on the github docs, or perhaps on here, the dev (who I can't remember the name of now) said that they don't care about the graphics (I beg to differ though) so probably a different version isn't a high priority.
Another fan over here

… I definitely like having modules like this in my rack. Visually speaking, that is. I wouldn't appreciate the whole software looking like this, but I'm glad there are modules like this in the mix, too.
I'll give you plain looking, but ugly as sin? I don't know. The panels are laid out with everything properly aligned, my text is legible, the control spacing is usable. The font is readable. You really think they are significantly uglier than the Fundamentals? It's ok if you do, but I don't.
Personally, I would consider the the loss of the uniqueness of these designs a negative. I understand the desire to have everything look like it is a piece of actual hardware, but none of it actually is. We are all using the Mindmeld mixers, and a mixer that deep is likely, never going to be available in eurorack hardware. Having a bit of cartoony aesthetic in Rack is a fun thing to me. The "reality" is already broken by "thick cables are polyphonic" or half Stoermelder's offerings. Long live the goofy!
The only thing I don't like is the use of the Squinky Labs font for the module name - something about that font turns me off, and it is not particularly easy to read. I think the font works well for the brand though. But hey, its a big world out there with a lot of variation in what people like. As long as the module is laid out sensibly and easy to read/interpret, then I am good with it. And your (ex) modules definitely fit that bill. (ex as in you have passed development on to another)
yeah, I stopped using that font. I didn't use it in SFZ player or Comp II, I don't think. amusingly, the wonderful guy who took them over likes that font, and put it back. well to each their own.
I really think if someone is going to not use a module because of the title, they have serious mental issues

I seriously was a little bit depressed when robert changed the font of pigeon plink from your font to the font of the RPJ-Plugins…
Well, he decided to make it RPJ modules, so it makes sense

IMO "traditional" is a very very loaded term.
I kind of dig the Computerscare look, mostly because the stark shapes, sans serif type, and use of stick figures instantly remind me of the Schwa Corporation art/anti-art that was prevalent for a while in the 90s: Schwa (art) - Wikipedia
@computerscare, reading all the responses I can see that your design is appreciated and loved by many. You have solid supporters!

Personally I like having lots of different looking modules. It makes the UI "readable" at a glance.
FYI there is a right-click option in Foly Pace and Stoly Fick Pigure that is used to show the animations at full brightness when the "room brightness" is reduced. The drawings "spilling" over on to other modules in the rack was an unexpected side-effect of that feature.
I'm glad you enjoy the modules, thanks for the kind words!
Each panel is painstakingly hand-crafted!
I don't think anyone has tried to convince me to make new panels, but do I take pride in the polarizing reaction that the look of the modules seems to produce. Also the fact that the theme as I'd call is "hand made, intentionally shitty" it means that when I want to alter a module I can just do it without having to consider how consistent it is with the overall style. The worse the better, in fact!
As I use "dark mode" in other applications more and more, I have considered making dark-themed versions of the modules. If I did go with a more traditional style I'd definitely have to do something subversive, like a single knob in a row that is 1px misaligned.