Hey Rackheadz. I'm very pleased to announce updates to my modules.
TrimLFO is based on Fundamental LFO1 + LFO2 with built in offsets that allows you to trim the min/max values of the LFO without attenuation, keeping the original wave intact.
Features include:
Displays for the LFO Frequency and Offsets.
Offsets which could be patched to other devices.
2v Sine and Square waveforms clamped to their offset.
Crossfade LFO wave output (top output).
Finetune for the frequency.
Manual reset via "RST" label.
And the usual LFO features also found in Fundamental.
QuadLogic is based upon Kinks/Utilities Logic section and expands it by 4.
1 Band is a dual mono parametric EQ with a listen switch that isolates the band being processed, you can also swap L/R channels. You can control dynamics with the gain mod positive values increase, negative decrease. The frequency mod (linear) controls the frequency but when connected also disables the knob (logarithmic) from controlling the frequency.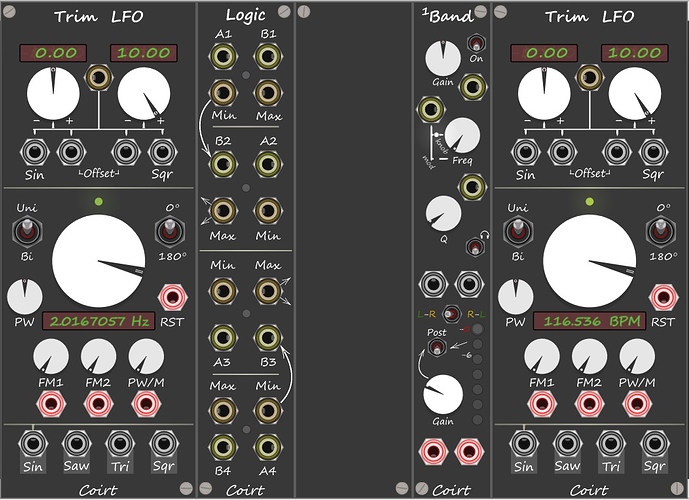 I look forward to seeing what you can all do with these modules. Suggestions and feedback are very much welcome. If you have any issues or find any bugs please don't hesitate to report through the issue tracker on the GitHub page.