I know that sound like a strange question, but has anyone used CV-gate to send an A4?
The reason I ask is because on my system it can't.
I was working with a percussive instrument that only had nine notes defined, so CV-Gate seemed an easier approach than CV-MIDI. I wired up the module and routed it to the external MIDI instrument: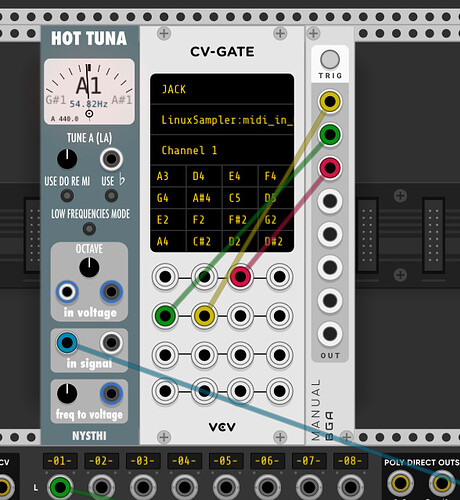 and it works, provided I don't send it A4. All the other notes work. But when I send it A4, it always either produces harsh and surprising output (occasionally), but usually it just crashes:
[175.533 fatal src/main.cpp:45] Fatal signal 11. Stack trace:
9: ./Rack() [0x56d2b1]
8: /usr/lib/libc.so.6(+0x3d6a0) [0x7f7da26306a0]
7: /usr/lib/libc.so.6(+0x165b2d) [0x7f7da2758b2d]
6: /usr/lib/libjack.so.0(jack_ringbuffer_read+0xbb) [0x7f7da30e625b]
5: ./Rack() [0x820b3b]
4: /usr/lib/libjack.so.0(+0x1422a) [0x7f7da30e422a]
3: /usr/lib/libjack.so.0(+0x13ef8) [0x7f7da30e3ef8]
2: /usr/lib/libjack.so.0(+0x308ed) [0x7f7da31008ed]
1: /usr/lib/libpthread.so.0(+0x93e9) [0x7f7da33d73e9]
0: /usr/lib/libc.so.6(clone+0x43) [0x7f7da26f3293]

As you can probably tell from the stack-dump, I'm routing MIDI via Jack: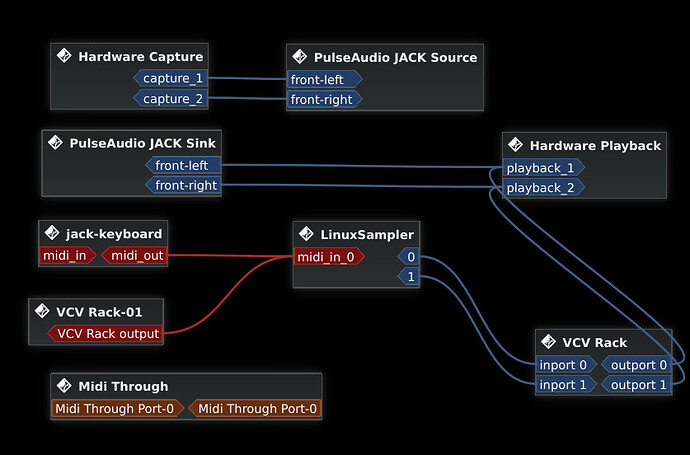 I had never worked with the synth before (linuxsampler), so I thought the issue may be with it, but I tried different sample sets and then an entirely different synthesizer (zynaddsubfx), and the behavior is consistent: rack crashes when I ask it to play an A4. Works fine when I use an external MIDI keyboard in lieu of the CV-Gate module.
Has anyone seen this before? Has anyone heard the clarion bell of 440 Hz wafting from their speakers when using CV-Gate?
It's really, really weird.