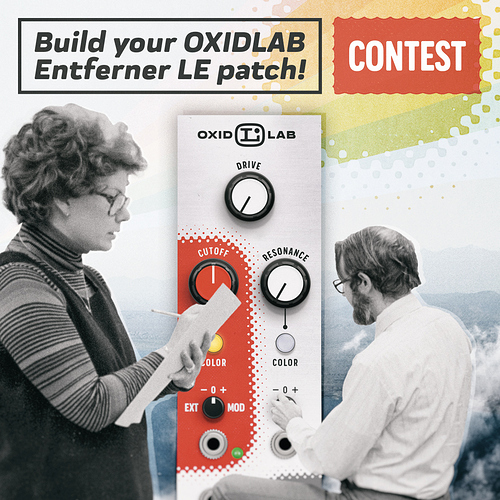 Build a patch using the prepared VCV Rack file and show us your outstanding creations.
Three (3) winners will be picked from within all contributions based mainly on the patch's creativity.
One (1) winner will be randomly picked from within all users who commented on this topic.
Each winner will receive one (1) license of the Oxidlab Entferner package (https://library.vcvrack.com/Oxidlab-Entferner).
Feel free to check out https://youtu.be/4vuqMbnrQCU to get some basic ideas about how to use the patch.
Rules:
Download the patch from here https://www.oxidlab.de/vcvrack_contest/contest_1_patch.zip (concept by Omri Cohen)
Use solely the already added modules. Don't add or remove any module.
Wire it up as you like, but the patch has to use at least one (1) Oxidlab Entferner LE filter prominently.
Give us some details about your patch (basic idea, what is the intention, …).
Send your patch to contest@oxidlab.de. If possible, create a video on Youtube.
All contributions will be made available on the website https://www.oxidlab.de.
Only one (1) contribution per user.
You can only win one (1) license if you have a valid VCV Rack account.
The contest runs from 2020/08/04 12:00 PM CET until 2020/08/11 12:00 PM CET. A. The winners are contacted via email after the contest deadline. B. The randomly picked winner will be contacted via a community message. C. All winners will be announced here.
The following modules are needed to take part in this contest:
Good luck to everybody!