hello! i recently compiled and released some musics made in vcv rack under my "iteration" compilation series. the following are some of my personal favourite patches i made and recorded around 2020 and i will post further additions to the series or other vcv projects in this thread when they come up.
iteration.1
this mainly includes patches i have made music compos on battle of the bits, (https://battleofthebits.org/) except for the first track. these are typically xhb compos (1-4 hours to complete a track with a specific limitation depending on the host).
you can find the main recordings on bandcamp, with normalisation and minor post-processing done in ardour: iteration.1 | beep-eep | argarak
if you're interested in the inner workings of each patch/track, you can also find the original patches now on patchstorage:
please note that each patch won't sound identical to the final recordings, this is mainly due to generative or random elements in the patch, or manual tweaking during recording that can't be replicated by running the patch on its own. some patches (usually the earlier ones) have some issues with multiple sequencers not quite being in the exact time they were during recording. i did eventually begin to get in the habit of resetting everything before adding a new sequencer, though most patches don't have this issue.
finally, i made a visualiser in js/canvas based on the album cover art and released a render of the visualisation alongside the album on youtube: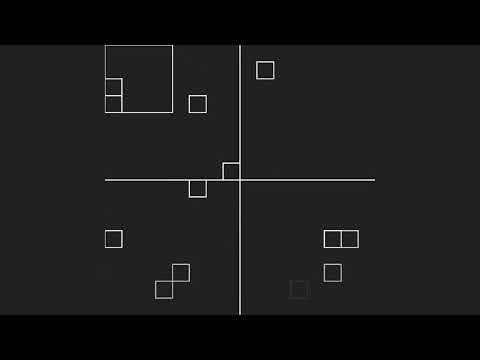 you can also find a real time version of the visualiser under "web stuff" on my website (it uses js audio api to grab system input audio): https://argarak.me/