While I'm waiting for more info about the library build environment, I'm already focused on something new.
(don't bother downloading builds - core functionality is missing, such as most outputs)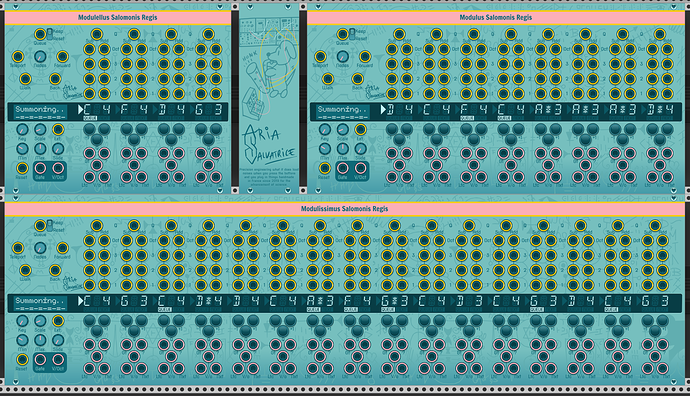 Becoming more comfortable with C++, I made it out of templates right from the start, so I could easily make multiple versions, although I think the 8 columns will be the best for most people.
It's a self-modifying, self-patching step sequencer. When you send it a movement trig on the top-left, the rest of the inputs become active for a short window of one millisecond. During that window, simultaneous CV input can add/remove scale degrees from the current node (it wraps around), and enqueue steps.
Then, the playing step sends various continuous gates for you to self-patch back into the machine (or process with external modules): per column, one of the outputs is guaranteed to be up, one is 50/50 random, another is a latch that happens every other time, and the fourth one triggers one step late. Because they are continuous continuous gates, they will continue until the next window closes, so you can use them for self-patching.
The 1ms of delay means that the 1+ sample delay that every logic module adds is a non-issue, so long as the triggers are roughly simultaneous they will work.
At least that's how the theory goes! Who knows if it will be even usable in practice. Only one way to know. I'm happy how it's turning out so far, except for one easy optimization I couldn't figure out: I can't manage to framebuffer the segment display font, no matter what I try. Isn't it supposed to be possible? I didn't find good example code of someone doing it. I used the same technique (but slightly different font) to make it as Braids, which doesn't framebuffer it. (Edit: fixed)